2020 Mercedes A-Class Analysis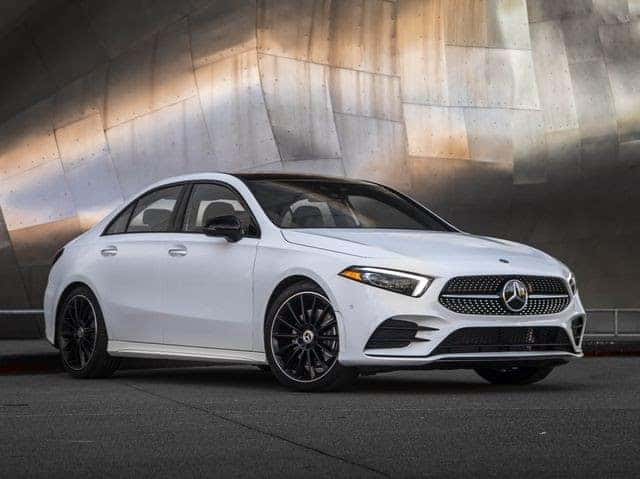 Introductory models give potential buyers the opportunity to get a vehicle that is economically priced in the lineup of luxury models from Mercedes, the 2020 A-class compact undeniably embodies this description as it is the smallest sedan in the automaker's selection as well as the least expensive option.
The A-Class sedan has an upscale look on both its exterior and interior as one should expect on any Mercedes model. Despite its small appearance, the cabin is very wide and spacious for both drivers and passengers alike, it also has an exceptional amount of legroom. Overall, the 2020 Mercedes-Benz A-Class model certainly wipes the floor with its competition in entry-level luxury sedans, but let's dive deeper into particular aspects that make it so great.
Engine and Performance
This year's A-Class comes with only one engine, which is a turbocharged 2.0-liter four-cylinder that produces 188 horsepower with 221 lb-ft of torque. One has the option to pick between a front-wheel-drive with the standard A 220 or an all-wheel-drive with the 4MATIC® version.
In terms of its drive and handling, its 7-speed dual-clutch automatic transmission handles the gear shifts quite well, the front-wheel-drive rides with less discomfort in terms of overall force than the heavier 4MATIC® but despite this, they both give a relaxed and composed ride. The steering has great precision, throttle response is excellent, and best of all, the turbo lag seems almost nonexistent.
Upscale Interior
One might initially expect that entry-level models will have a design that is that has very modest and safe features, and while that may be true for other car companies, those who really know Mercedes know that we don't do anything safe-ever. The trinity of circular air vents adds a little sugar and spice towards the center stack. The front seats deliver comfort that you've never experienced before and make this sedan more than ideal for those who have to fight through traffic that is not as comfortable. 
The cargo capacity is quite small but it makes up for this with its standard folding back seat with a 40/20/40 split which aids in fitting items too large for the car's trunk. Overall, its lack of cargo capacity is why this vehicle might be more suitable for singles. Who needs kids? Spend your hard earned money on something far more important, like upscale options that add on leather upholstery, heated front seats and LED interior lighting.
Advanced Technology
In addition to the excellent interior design, the infotainment and safety tech really takes the cake. Standard infotainment features include Bluetooth® phone and music streaming, HD radio and a 7-inch touchscreen. Those who opt for the base model will get an 8-speaker sound system, five USB-C ports, and Apple CarPlay/Android Auto smartphone integration while the Premium package includes a larger 10.25-inch touchscreen. Optional gadgets and gizmos include SiriusXM satellite radio and a Burmester stereo.
Standard features are a bit lighter but still all the more helpful, like blind-spot monitoring, lane-keeping assist, and adaptive cruise control.
Final Assessment
As I said before, I recommend this car for those with either small families, newlyweds, or singles in particular, as this vehicle doesn't have much cargo space. Depending on you're lifestyle small amount of cargo doesn't have to be a deal-breaker but it seems like the A-Class is more ideal for someone whose main responsibility is towards his or herself, therefore doesn't really need much cargo space. One might even consider this Mercedes model almost like a sporty-type of car (in terms of its overall look) but one thing is for sure, it's obviously not a minivan.
Mercedes-Benz of Washington
Once again, the 2020 Mercedes-Benz A-Class flexes its affordability with its great warranty. The Limited warranty covers 4 years/50,000 miles while the powertrain warranty covers the vehicle for the same amount of time. 
Mercedes-Benz of Washington is currently selling this vehicle for a very affordable price of roughly $40,000, those who are interested in this model can search through our inventory on our website and chat with an online representative for more assistance.
Photo Source/Copyright: Car and Driver