2021 Audi A3 vs. BMW 228i Gran Coupe vs. Mercedes-Benz A 220
The Big Three Fight For The Title Of Queen Bee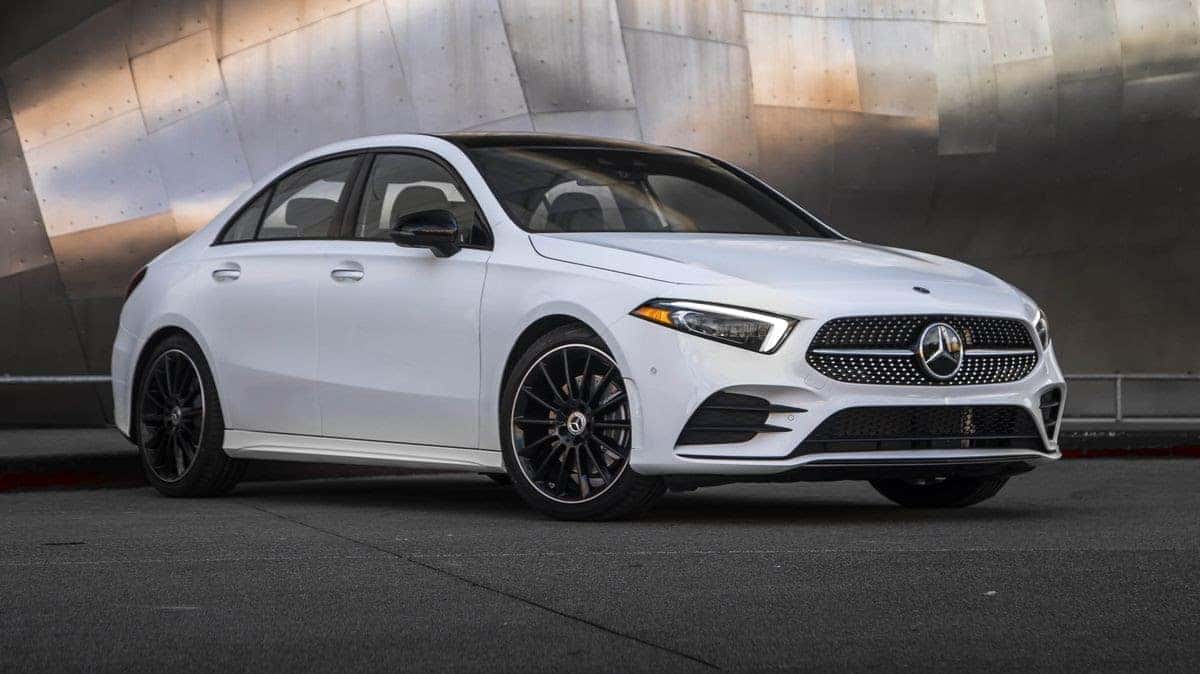 Entry-level sedans are perfect for those who are economically-savvy, but over the years we've seen many luxury brands offer vehicles that have high-class features but without the high-class price. Three luxury brands that have gained a reputation for doing this include Audi, BMW, and Mercedes-Benz.
As with their most recent lineups, which are the 2021 Audi A3, 2020 BMW 228i Gran Coupe and 2020 Mercedes-Benz A 220, these three cost-effective powerhouses all have prices that are around just $40,000, but the real question is, which one provides the best overall feel and performance? Let's find out!
Which Engine Really Roars?
The  2021 Audi A3 makes use of its famous Quattro all-wheel-drive, however, it still has not been confirmed what engines will be used in the U.S. We do know that the engines will be some version of turbocharged I4 paired with an automatic transmission, pushing between 200 and 300 horsepower. It is also highly likely that the U.S. will receive the 48-volt-mild-hybrid system as well.
The youngest Benz is its 220 base model as a front-wheel-drive, but for a little extra doe, you can still get its 4MATIC® all-wheel-drive. This sedan has just enough kick from its turbocharged engine, with its standard 2.0-liter I4 that pushes 188 horsepower and 221 lb-ft of torque (295 lb-ft of torque with the 4MATIC®). One highlight of the Mercedes powertrain is that it actually has another and more advanced type of 4MATIC®, which is the AMG® A35, it comes with a 7-speed dual-clutch transmission and pushes an amazing 302 horsepower with the same amount of torque as the regular 4MATIC®.
The BMW 228i Gran Coupe is the entry-level variant of its 2 Series. Although this model is an all-wheel-drive, it still has a type of build that is based on a front-wheel-drive type of design and is also without a manual transmission. This BMW Coupe pushes a pretty decent 228 horsepower with 258 lb-ft thanks to its 2.0-liter turbo I4 engine. It's similar to Mercedes in the sense of offering more power from its M235i, but just one point off below the Mercedes AMG® 35.
Who's The Technological Trendsetter?
In today's digital age, having a smart engine almost doesn't mean much to the driver without some remarkable tech features, especially for entry-level models. Luckily, none of the 3 challengers let us down.
Next year's Audi, for example, pretty much has designed its interior based on its updated technology and parallels what is already offered in other but more expensive models. Audi does away with the tiny pop-up display of the older A3 and replaces it with a very handsome-looking 10.1-inch touchscreen. Shoppers get the choice of picking one of the two digital instrument clusters, one being a 10.25 inch on the base model while the other is 12.3 inches. Audi's MMI Touch system provides basic features that are often in high-tech cabins like Apple Apple CarPlay and Android Auto support, handwriting detection, natural voice recognition and a 4G LTE data connection, though, the company says that the processing power is much faster.
The Mercedes A-Class is pretty much the OJ in all of their models to receive the company's top-notch MBUX infotainment system. The interior design is covered by the intensely large dual-screen floating display and pretty much embarrasses its competition. Needless to say, it is not that surprising that the new MBUX is a joy to use, and even more so now that the screen has been converted into a touchscreen. The system also offers a plethora of standard features, with the highlight being Android Auto and Apple CarPlay. It also features optional adjustable ambient lighting and the same for the expanded 10.25-inch dual screens (about 3 inches larger than the standard).
The 2 Series Gran Coupe's interior is quite general and none too overdramatic. Its infotainment system is a BMW Live Cockpit for just the base model and operates iDrive 6, though you'll likely have a preference for its Premium Package, as it includes Live Cockpit Professional and operates iDrive 7, as well as other goodies. As with the Audi and Mercedes, this BWM has Apple CarPlay and navigation from the upgraded Cockpit. One thing that it lacks, for now, is Android Auto, though it's supposed to come soon.
Just How Safe Are They?
Despite the dazzling tech features or even dynamic 4MATIC® systems, none will ever be as important as the safety of drivers and their passengers. Fortunately, Audi has some impressive implementations in this segment with its X communication system being the top-dog. With this system, the vehicle can have a better understanding of its environment and also has features like Traffic Light Assist, which tells the driver beforehand to accelerate or slow depending on the information it interprets. Other safety features include PreSense collision mitigation tech, enhanced adaptive cruise control and lane-keeping assist.
Mercedes doesn't relax when it comes to its features either. It also has a variety of different safety assist technologies like full-speed adaptive cruise control, blind-spot monitoring, steering assist, route-based speed adaptation, as well as the optional Driver Assistance package.
The 228i Coupe also doesn't roll over, as it includes its highlighting feature, the Active Driving Assistance, which has frontal collision warning, lane-departure warning, active blind-spot detection and speed limit info. Woefully, BWW's parking assist will hurt your wallet a bit ($200) as well as its adaptive cruise control ($1,200).
Which One Will Give You Your Space?
These sedans are compact, so while it's not fair to expect a large amount of space, it is still unreasonable to be uncomfortable, especially in a luxury vehicle. Unfortunately, Audi's A3 specs currently aren't available but its competitors certainly come in swinging.
Although it's only by a little, Mercedes beats the BMW in the amount of headroom given, with 40.3 inches against 39.8, then again in the rear with 37.2 inches against 35.7. It's estimated that based on Audi's design that it would split the difference between its two competitors.
Mercedes gains another victory over the Gran Coupe in legroom, with 41.8 inches to BMW's 41.4. However, its a bit conversed in the rear, as the BMW provides 34.4 inches while the Mercedes offers 33.9 inches.
Let's Talk Money!
Price is another big determinant of which car to buy. Information on the price of the 2021 Audi A3 is currently not known, though it likely won't be a big difference from its 2020 version for $33,000. BMW has a great entry price of $37,500 but without any options. Mercedes, on the other hand, offers just $32,800 for its front-wheel-drive and $34,800 for its all-wheel-drive. Since price is usually a determining factor for many drivers, it seems quite obvious what vehicle reigns supreme…
Mercedes-Benz of Washington
Now that you know that the Mercedes A-Class dominates in its segment, it's time to start shopping! Mercedes-Benz of Washington has a wide range of Mercedes vehicles, including that of the A200. Visit our website and view our new online car inventory and chat with an online representative for further assistance.
Photo Source/Copyright: car and driver