Mercedes-Benz Says That You Could Have Had A V8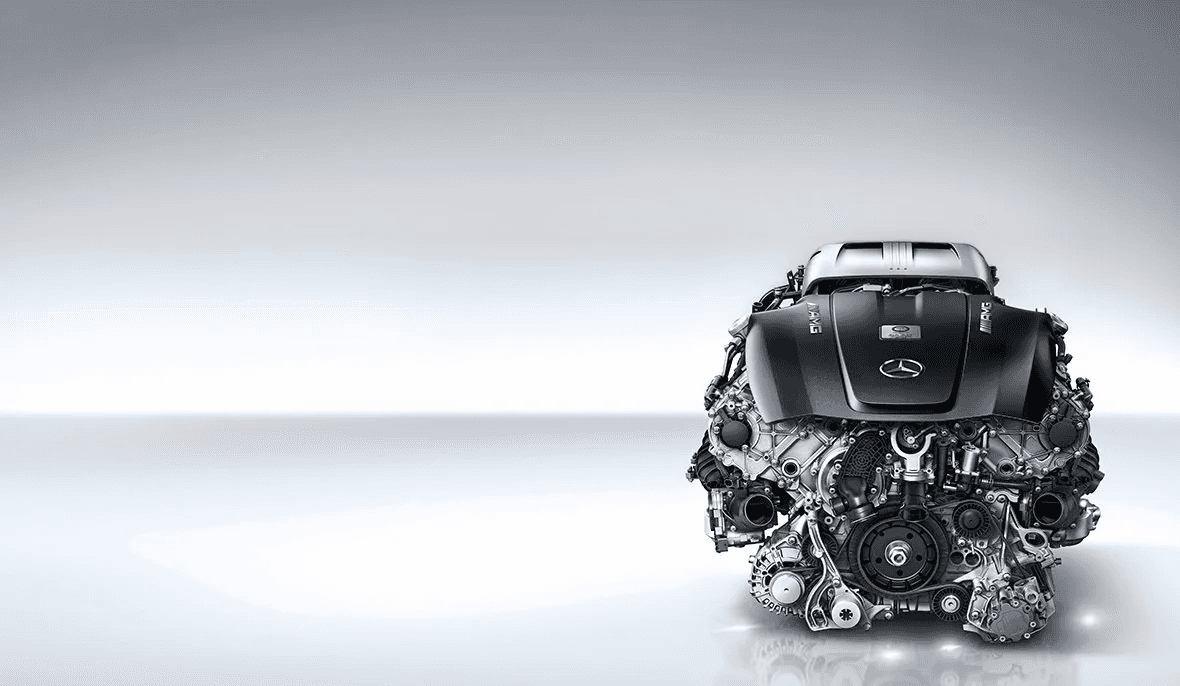 The Return Of The V8
In 2021, the deluxe automaker, Mercedes-Benz revealed that 2022 would be the year that several of its cars that normally have available V8 powertrains wouldn't be sold, with the reason linked to supply chain issues. Various models such as the G-Wagon to the speedy C 63 AMG® coupe were being prepared to head to dealerships without the V8 offering, and while this is generally still the case, there's still light at the end of the tunnel. Allegedly, the German car manufacturer was able to scrap just enough parts to construct a list of V8-powered SUVs.
This information comes from a supposed memo leaked to dealers that claims as much. As stated by the document, the V8s that are compatible with the GLS, GLE, and G-Wagon are all supposedly coming back into production. This list also encompasses the high-value Maybach GLS. What this means for Mercedes-Benz loyalists is that the G-Wagon, which is only powered by V8 engines, is back on the catalog after appearing as if it wouldn't even be around for the 2022 model year.
The current source is what seems to be a sanctioned document from the car maker, as it was published by an employee of the dealership on a Mercedes-Benz. It said that the order banks for the cars were scheduled to open last week, February 3rd. Other supposed dealership employees in this thread supported this claim, together with Robby DeGraff, an automotive industry analyst.
"Good morning folks. Certain Mercedes-Benz models with V8s have returned for 2022 MY including G-Wagon, AMG® GLE 63 S Coupe, GLE 580, AMG® GLE 63 S, GLS 580, AMG® GLS 63, and Maybach GLS 600. Looks like a few were saved from the microchip shortage's brutal wrath afterall."
— Robby DeGraff (@Robby_DeGraff) February 1, 2022
As reported by the forum thread, sharing out these V8-powered cars will be "very limited," so we can also deduce that the manufacturer has quite a challenge on their hands. On the other hand, something is always better than nothing. As the popularity of SUVs and crossovers have seen exponential growth in North America, it's considered a big problem by not having your most bankable models up for sale, which the automaker is obviously trying to find a solution to. It's also stated that these particular models will be (MY 2022, not 2023). 
The same day (Feb, 2), a spokesperson for Mercedes-Benz was able to confirm these rumors to car blog site, The Drive, stating:
"Ordering banks are open for the MY22 Mercedes-Benz G 550, Mercedes-AMG® G 63, Mercedes-Benz GLE 580, Mercedes-AMG® GLE 63, Mercedes-AMG® GLE 63 Coupe, Mercedes-Benz GLS 580, Mercedes-AMG® GLS 63 and Mercedes-Maybach GLS 600." The spokesperson also noted that, "We do not have any further details regarding additional model availability at this time."
Mercedes-Benz of Washington
When the time comes to purchase your V8-powered vehicle, be sure to do it Mercedes-Benz of Washington. We carry a wide range of vehicles from the brand ranging in different shapes, sizes, and prices. 
Simply view our online new car inventory, then once you find something that suits your needs, you can chat with one of our representatives for further information and assistance.
Photo Source/Copyright: Mercedes-Benz