The 2022 Kia Stinger vs. 2022 Mercedes-Benz C-Class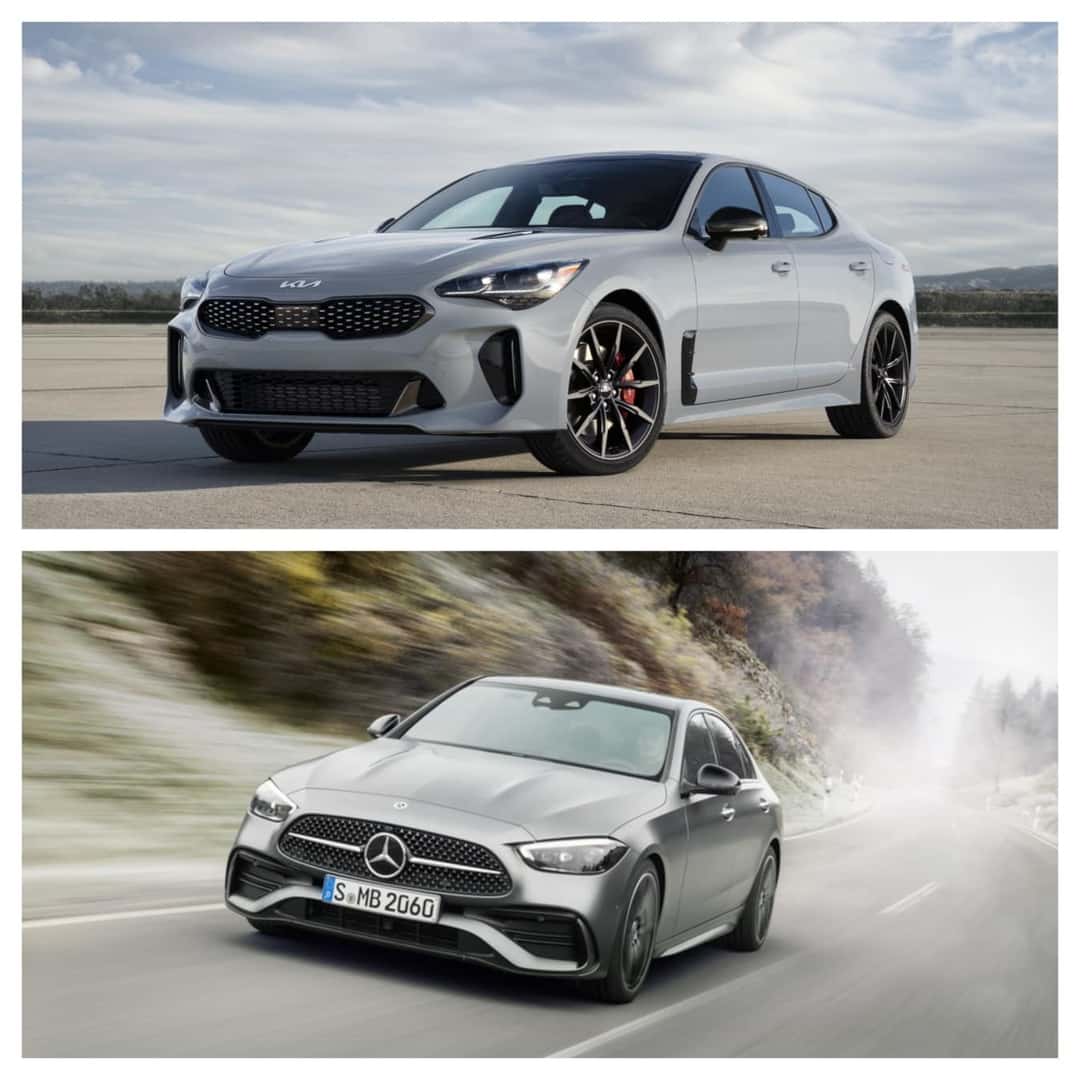 The 2022 Kia Stinger and 2022 Mercedes-Benz C-Class sedan both provide a drive that is energetic and spirited, but when it comes to making a final purchase, the deciding factor will be built upon whether one values Kia's emphasis on price and user-friendliness or Mercedes-Benz weight on advanced, and often times elaborated technology configurations, as well as other aspects that aren't so common in other brands. 
Before you make a decision, let's dive a little deeper into what both of these vehicles have to offer.
Kia Stinger
Kia's latest 2022 Stinger continues what the brand is known for, and that's upgrading its features but doing so in a way that won't cause their prices to skyrocket. However, this concept is generally embodied on the entry-level trim, because prices do shoot up as you reach up to the higher models, and in a significant way.
The upcoming Stinger will implement a base engine that is more powerful, as well as a fresh look for the exterior. The manufacturer does well in improving the appearance of its mid-size vehicle as well as its overall effectiveness, making it somewhat comparable to the Audi A5 Sportback.
The Kia Stinger makes use of an entry-level 2.5 turbocharged 4-cylinder engine that already gives drivers a powerful boost of 300 horsepower with 311 lb-ft of torque. Even more power can be found with the available 3.3-liter twin-turbocharged V6, specifically on the GT1, GT2, and Scorpion trims. This engine has an output of 368 horsepower and 376 lb-ft of torque.
Both of these powertrains are paired to an 8-speed automatic transmission, using a standard rear-wheel-drive (RWD) system, along with an optional all-wheel-drive (AWD) system.
The newest Stinger offers various driver-assist technologies like a forward-collision warning with automatic emergency braking and pedestrian/cyclist detection and blind-spot monitoring. Other goodies involve rear cross-traffic collision avoidance, rear parking sensors, and navigation-based adaptive cruise control.
Mercedes-Benz C-Class
Slowly but surely, the luxury German Benz-maker managed to increase the popularity of its C-Class compact in North America. This sedan didn't just increase its fame, but its framework, as it's almost as large as the more advanced E-Class car. On top of this, it also borrowed a few technological features from the flagship S-Class.
Each and every model that belongs to the upcoming C-Class gets its juice from the new 2.0-liter twin-turbocharged engine that has an output of 255 horsepower and 295 lb-ft of torque. This motor gets even more of a fix thanks to the brand's EQ Boost system, which is a 48-volt electric motor fitted between the engine and the 9-speed automatic transmission. The add-on provides 20 horsepower and 148 lb-ft of torque in short increments.
In conjunction with the temporary boost, the system enables the car to move or (as the company would say) sail the car when the gasoline engine isn't being used. The C-Class uses either RWD or 4MATIC® AWD for its available driving systems.
On top of this, the newest C-Class car has increased in size by 2.5 inches. The wheelbase has also increased by an inch, which improves the legroom in the rear seating area by that same measurement. Internally, you'll be greeted with an 11.9-inch touchscreen that encompasses the Mercedes-Benz User Experience (MBUX) system. This technology involves voice control for the navigation system, as well as audio, and climate controls.
Which Sedan Proves That It's Ready To Take On 2022?
The 2022 Kia Stinger is a powerhouse of its own with its arrangements, engine options, trims levels, and one of the best powertrain warranties. However, the 2022 Mercedes-Benz C-Class promises a better investment with its various technological capabilities, and well as its mild-hybrid powertrain.
If don't have to just take our word for it, you can see all that there is to offer at Mercedes-Benz of Washington. We sell a wide range of vehicles from the brand, including the C-Class sedan. Those who are interested in any of our vehicles can simply view our online new car inventory and chat with a representative for further assistance.
Photo Source/Copyright: Kia Media and Mercedes-Me Media