Why The 2021 Mercedes E-Class Coupe Is Your Perfect Co-Pilot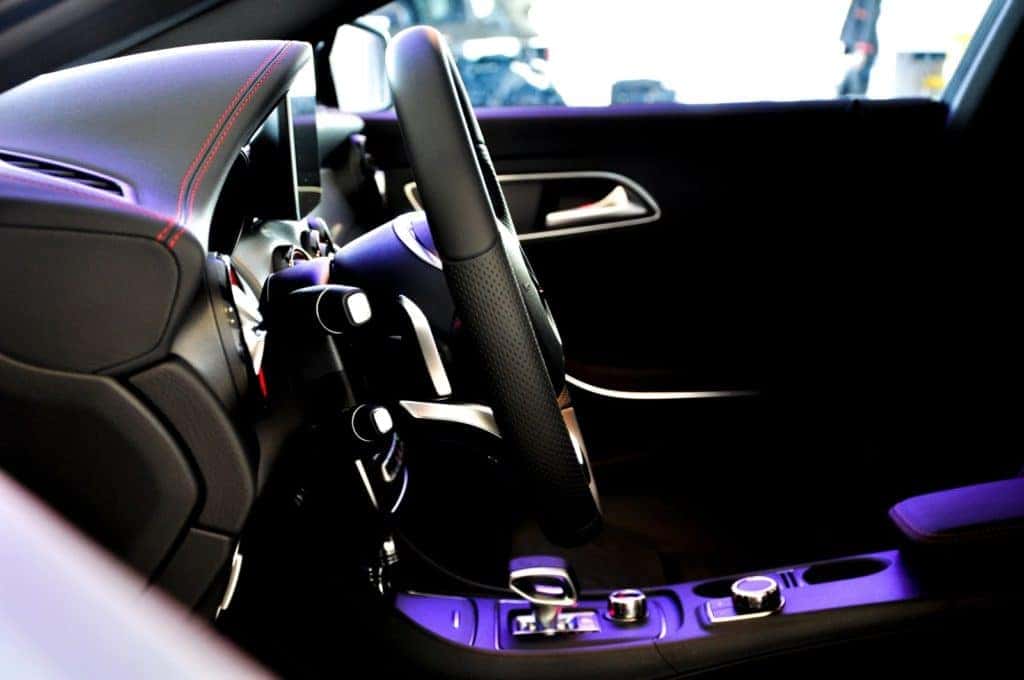 Loyal Mercedes buyers know by now that when it comes to high-class features, both design and tech-wise, the lovable luxury brand will deliver. The upcoming 2021 E-Class Coupe in particular has some big changes coming its way, specifically the more advanced driver assistance features. These new gadgets and gizmos will be apart of the big options list in the shape of the newest semi-autonomous driving and safety features, like Active Brake Assist, Cruise Control, and Blind-Spot Detection. You might already be familiar with these features, but with next year's E-Class Coupe, they'll be more enhanced than ever before.
The Steering Wheel Knows Your There
The latest Mercedes-Benz interior system can sense small steering changes when drivers have his or her hands on the wheel. A cool but also weird and scary feature is when the drivers take their hands off the steering wheel with the activated automatic cruise control to which the system will apparently scold them to put their hands back on the wheel and will even stop the car should they fail to respond; seems likesome sort advanced version of General Motors Teen Driver technology…but maybe a little cooler. The system also has a dual-zone capacitive touch sensor mat on the wheel's rim, which lets it know whether or not the driver is touching it, therefore, the actual movement of the wheel is no longer needed.
Brakes Before A Potential Collision
A standard feature on the 2021 E-Class Coupe is the Active Brake Assist, included with this is a new function that can tell if there is an oncoming vehicle while drivers are seated at a stoplight. If the driver's turn signal is on, cross-traffic braking intervention would assist and try to turn across approaching lanes; An example would be at a stoplight with the driver in the left lane, the system would be able to stop the car completely before they even get out of their lane, therefore, keeping them out of the path of the oncoming vehicle.
Cruise Control Adjusts Your Speed Accordingly
Mercedes latest system includes the familiar Active Distance Distronic system as well as the very unfamiliar route-based speed adjustment included with it, this function will adjust the pre-established speed contingent on its insight of the mapped road beyond them. 
Watches Your Surroundings In Case You Don't
One should never get too cocky, no matter how advanced Mercedes makes their systems, drivers will still have to keep his or her hands on the steering wheel, but if they are driving below 37 mph on the highway, the vehicle will steer for them by making out lane markings as well as other vehicles around them. Also, it doesn't matter much if the lane markings are faded, the vehicle will just follow the car in front of it.
Has Both Visual and Audible Warning
This new system can intercede to prevent drivers from changing lanes while another vehicle in their blind spot. Mercedes buyers who are familiar with previous generations of the E-Class models may remember a flashing light at the mirror as a warning, but this time, the system will beep audibly as well. Another new feature that is perfect for parking can sniff out another vehicle or bystander approaching and warn the driver not to open their door in their path. 
Assists In Looking For A Park Space
In the past, the Active Parking Assitant with Parktronic assisted drivers with pulling in and out of a parallel or perpendicular parking spot, and even their garage, however this required other vehicles around and objects for accurate detection. This time, its camera aids in detecting parking-spot lines, and also helps drivers park into free spots without needing any vehicles or objects around it.
Mercedes-Benz of Washington
The 2021 E-class goes on sale at the end of this year, but meantime, don't limit yourself to just one option as you shop for your next car. Mercedes-Benz of Washington has a wide range of Mercedes models, each suitable for different needs of individuals. Simply check out new online car inventory via our dealership website and chat with an online representative for further assistance.
Photo Source/Copyright: Shutterstock via photographer Gavriilidis Dimitris