Battle Of The Compacts: Mercedes-Benz GLB Vs Range Rover Evoque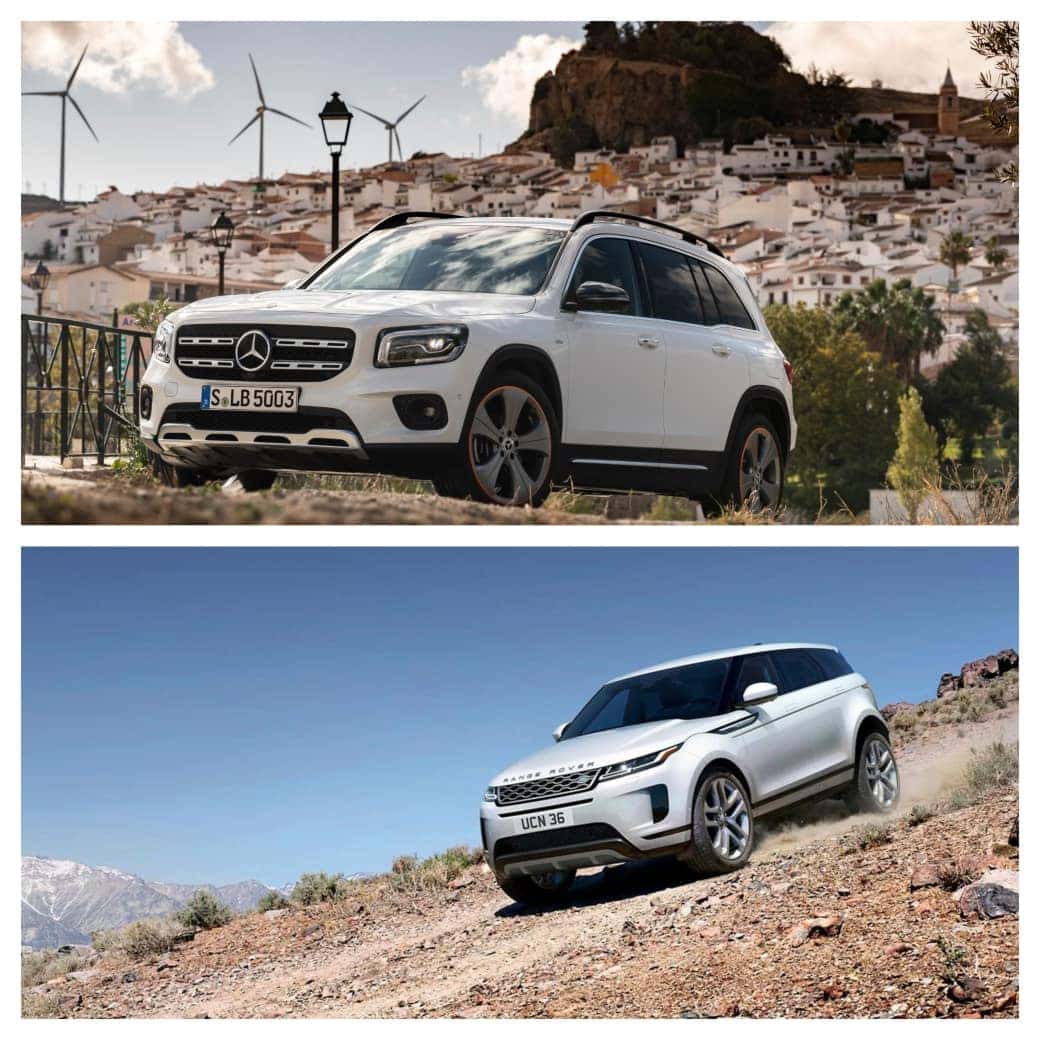 The current marketplace is flooded with deluxe SUVs and crossovers, and with options of what to choose from and intricate detailing becoming more expensive than ever before. Two particular vehicles that stand out are Mercedes-Benz's GLB and Land Rover's Evoque. Both of these burly machines are at the top of their game in terms of their styling, features, and performance. Let's see which of these contenders prove to be the most worthy.
Exterior Design
The design for the Mercedes-Benz GLB is quite simplistic, but not in a Plain Jane sort of way, more in the essence of classy and chic. It rocks curves in all the right places, has a chrome finish and a headlight configuration that only adds to its opulent look.
Then, Range Rover's Evoque model does a job well done with its sporty design, which encompasses smoldering LED headlights, a big and almost boxy shape, and flat door handles. All of these attributes make up a fierce and sporty beast of a machine, mirroring a bit from the brand's Velar SUV. 
Interior Design
Moving inside, the GLB gains some brownie points when it comes to its layout. The lavish chain provides an excellent blend of first-rate materials, space, and cutting-edge technology, with minute details like tubular metal fittings on the dashboard and door, as well as handles that highlight the opulent particulars and premium styling. As a whole, this lodge embodies grandness and comfort.
The Evoque compact also gets in its groove for its interior design, with elements like its athletic-looking storage spaces, leather-trimmed seats, and stocky door inserts that house the sleek windows and mirror controls. Then, the center console of the SUV is where you'll find the dual-screen configuration that lessens the need for physical buttons. Over, the automaker did well in fusing its materials and functionality.
Safety And Features
The main selling point of the GLB is its incredibly extensive list of technologies. The crossover shows off its 7-Inch digital gauge cluster and a 7-inch touchscreen on each and every variant, and also has available 10.3-inch dual screens on the Premium Package. 
This Mercedes-Benz vehicle also features a color head-up display system, an optional wireless charging pad, Apple CarPlay and Android Auto, along with Bluetooth® compatibility. Safety features are even more impressive with standard ones involving cruise control, active brake assist, and adaptive braking. Optional safety features like active-blind spot assist and lane-keep assist add even more excitement to the long list of features that the German car maker offers. 
The Evoque SUV also doesn't back down with its features, as it includes a dual-zone climate control system, 10-way power-adjustable front seats, and ambient lighting (which the GLB also has). The interior also invites a 10-inch infotainment screen that excels at its user-friendliness. 
The luxury car also involves Apple Carplay and Android Auto. and has a wireless charging pad and a premium Meridian Audio system. The manufacturer prioritizes safety as it comes with features such as automated braking w/ pedestrian and cyclist detection, as well as lane-departure warning w/a lane-keep assist. Additionally, optional features involve adaptive cruise control and semi-autonomous driving.
Performance And Price
The driving performance of the GLB is quite snappy. The lavish Mercedes-Benz vehicle is powered by a turbocharged four-cylinder unit that has an output of 221 horsepower and 258 lb-ft of torque. The big guns come from the fast-shifting dual-clutch 8-speed automatic transmission, which helps in bringing the car to 60 mph in just 6 seconds. The SUV has a standard FWD configuration and optional AWD.  The powertrain and transmission ultimately complement each other and create a ride that is truly extraordinary.
As far as the price is concerned, the GLB is much cheaper than its competitor, with the starting MSRP at $39,650, (plus destination fee). 
While the performance of the Range Rover Evoque isn't considered to be the best in its segment, it still holds its own on the city streets. With it resides a 2.0-liter turbocharged engine that has a decent output of 246 horsepower and 269 lb-ft of torque. It speeds up to 60 mph in 7.1 seconds, meaning it kind of lags behind Mercedes-Benz crossover, among its other competitors.
This Rover model is matched with a 9-speed automatic transmission unit, and has a standard AWD system. While this vehicle is certainly no sports car, it still gets the job done while cruising through the city streets.
This Evoque has a higher starting price of $44,350, (plus destination fee). While its performance doesn't justify this cost, its charming exterior and interior layout does, as well as its features.
To put it simply the Mercedes-Benz GLB and the Range Rover Evoque are neck and neck among every category, which makes distinguishing better of the two quite a challenge. On one hand, the Evoque evokes a level of style and sophistication that is hard to beat, but the GLB outranks the latter with its top-notch safety technologies and an extensive list of features. The Evoque does have a better output, but it still loses some points in terms of its acceleration numbers. Mercedes-Benz then outshines, once again, with its cheaper price. Overall, the GLB will give you more bang for your buck.
Mercedes-Benz of Washington
Don't just take your word for it, check out the Mercedes-Benz GLB for yourself at Mercedes-Benz of Washington. We carry a wide range of vehicles from the brand that vary in different shapes, sizes, and prices. Those who are interested in this model or any of our other models can simply view our online new car inventory and chat with a representative for further assistance.
Photo Source/Copyright: Daimler Media and Range Rover
*European Images Shown