Inside The Opulent 2021 S-Class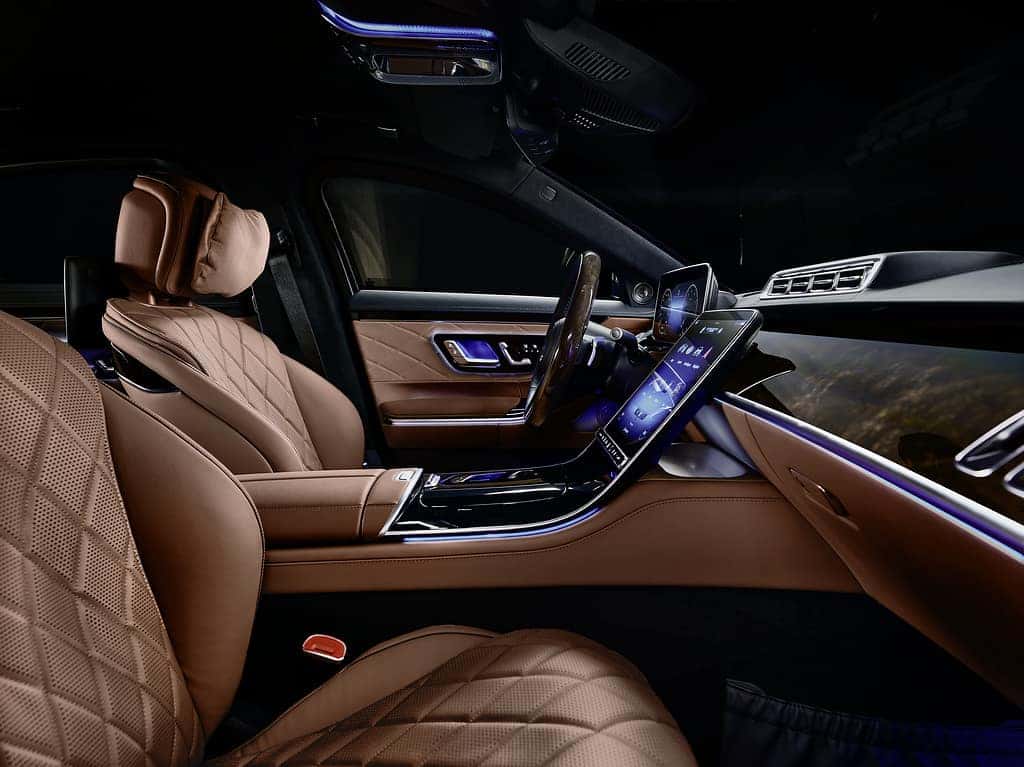 The Mercedes-Benz S-Class sets the standard not just for its brand, but virtually every luxury car on the market, whether it's a sedan or not. The company's 2021 model is the next big thing right now and has already set the tone for what other vehicles should strive for, more specifically in the interior. Usually, the interior is actually the highlight of a car's design, because other than looks, it also involves functionality. On that note, let's explore inwardly by taking a tour of the Mercedes-Benz S 580 sedan.
Get ready to get comfortable fast, because you'll already find yourself captivated by the deluxe material and find detailing through the cabin. Colors like Sienna Brown, Carmine Red, or Silver Grey are all excellent choices to choose from. Then, for an extra $3,800, the Warmth and Comfort package will be optimal for those who live in cooler climates, since the heated surfaces provide the perfect snuggle, as well as the power-reclining rear seats that are also included in the package, which have heating and cooling features.
Drivers will revel in their fixed headrest pillow, and will also appreciate the touch-operated seat controls. As with the E-Class, all of the steering wheel controls have touch-sensitive buttons, and the same concept goes from the center stack.
Don't worry ol' timers, Mercedes-Benz didn't completely leave you out the loop. The engine has a huge start/stop button that you simply can't miss. The vents are also controlled manually, using a ribbed, metal piece to grip. Then of course, you have your handy-dandy cup holder covers and opener for the center console, are the few features that don't use a voice command system to control. Regardless, there's nothing in this car that feels cheap.
Mercedes-Benz furthers this lavish lifestyle with its trim options. One of them is the Silver Aluminum/Fanned Walnut combination, as the large slabs of wood are broken down into various pieces by aluminum strips.
As with the last year's S-Class, this car takes blocking out the noise of angry drivers and other unpleasantness to another level. This type of tranquility simply can't be beat, and also helps to enhance the sound quality of the standard Burmester audio system.
The automaker has only increased its ability to provide comfort with its new message function, which involves various programs for full-body movements and vibrations. If you're a big fan of those vibrating chairs, then you'll probably be a fan of this too.
Finally, the car company takes things even more seriously with its interior with advanced gadgets and gizmos such as the fingerprint sensors, made to identify the driver, along with the familiar ambient lighting and a plethora of technologies found all throughout the infotainment system (which is a whole other realm in and of itself) keep the flagship hot and sexy, and on the cutting edge of avant-garde technology. One should never expect anything less from the Benz family, as it often keeps its lesser models on its toes because of its incredibly high standard of excellence.
Mercedes-Benz of Washington
So what are you waiting for? The time is now to purchase your 2021 Mercedes-Benz S-Class, and Mercedes-Benz of Washington has you covered! We sell a wide range of vehicles from the brand in a variety of different shapes and sizes. Those who are interested in any of our vehicles can simply view our online new car inventory and chat with a representative for further assistance.
Photo Source/Copyright: Daimler Media