Mercedes-Benz and Sortimo Transform The EQV Into An Electrified Camper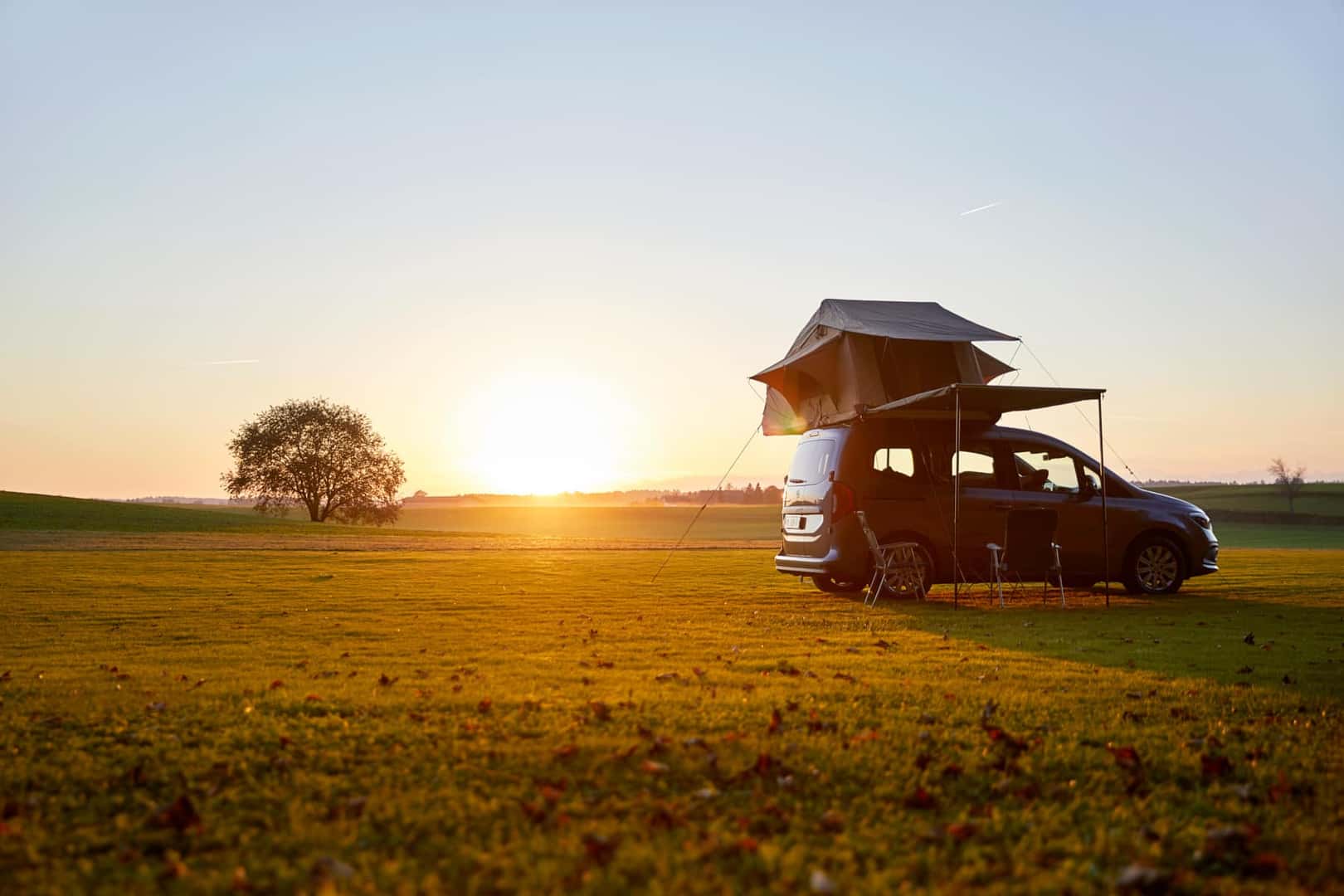 EQV Conversion
The deluxe German automaker, Mercedes-Benz is back at again with an environmentally-conscious vehicle, more specifically in the form of a decked-out mobile home. Thanks to the help of Swiss mobile assortment company, Sortimo, they were able to bring forth this luxury home on wheels, better known as the transformed EQV.
This collaboration was able to birth this fun, tiny electric camper that encompasses home elements like a bed, kitchen, and pop-top roof.
"The future is electric, also in the motorhome industry," Klaus Rehkugler, head of sales and marketing at Mercedes‑Benz Vans, said in a press release.
As we've mentioned in recent years, the car manufacturer has already dipped its wheels in the camper van industry such as with its Vito and Marco Polo vans, along with a few others. In fact, this brand has been deemed one of the most favored vehicles to use for DIY camper van converts and like-minded van companies, as well as with the Ford Transit and Ram Promaster.
Now the automaker is sporting some new moves with its EQV as it embarks on its new electrified journey. This vehicle currently has a range of around 203 to 226 miles on its 300 model, while the 250 reaches between 132 to 147 miles. This van would be suitable for those who prefer to go on short camping trips.
According to Business Insider, Sortimo constructed the concept with Mercedes-Benz Switzerland and Roger Mosimann, Sortimo's marketing specialist. For the time being, the converted Mercedes-Benz van is only accessible through Sortimo Switzerland. The outfitting company actually completed a second prototype of the German automaker, and it's currently developing a third for a customer.
While the EQV hasn't been modified into a massive RV, it still acts like one with two main "rooms", such as a bed and kitchen, complete with luggage storage. 
The mini-cookhouse can be expanded out out the rear of the van, and it involves a sink, a two-burner gas stove, a refrigerator, and drawers for utensils and cutlery storage. The sleeping area technically rides in the dining room, as the foldable bed rests above the kitchen unit.
The van also comes with conveniences such as USB ports, extra lighting, driver and passenger seats that can rotate, and rear windows that are tinted for extra privacy. 
Additionally, there are two solar panels that help power these extras. For those willing to spend a bit more, they can also get a pop-up roof, expanding the height of the vehicle.
In Germany, the EQV is starting at roughly $64,800, (plus destination fee). Then, with the inclusion of Sortimo's camper conversion, buyers should be expected to pay a starting $10,800 (with the pop-top roof) or $5,180 (without the roof), said a spokesperson for Mercedes-Benz Vans, Diana Boch.
Altogether, the EQV camper conversion encompassing a bed, kitchen, and pop-top roof should come out to around $75,600, (plus destination fee), which is less expensive than the Sprinter camper vans from RV makers like Airstream and Jayco, which are over 200,000.
Mercedes-Benz of Washington
The Mercedes camper vans will certainly provide the perfect getaway for you and the whole family. John Sission Motors has that vans are filled with cutting-edge design and features, and provides all of the basic necessities that a group needs.
If you are interested in any of our Mercedes models, take a look at our website and browse through the inventory. If you find something you like, chat with an online representative for more information.
Photo Source/Copyright: Daimler Media